Lease Turn In & Cash Out Program

Calling all GM Lease owners!
We want to pay you for turning your vehicle in EARLY! With our GM Lease Turn In & Cash Out program, if we buy your lease vehicle, we'll pay you $100 right on the spot!
Due to the current market, your vehicle's residual value may be greater now than what was originally predicted. If you've got 8 months or less remaining on your GM lease, come see us and find out today! Even if we don't buy it, we'll give you a $25 gas card just for coming in.
What cars are included in this program?
– Any leased vehicle from General Motors (GM) including Chevrolet, GMC, Buick, or Cadillac
What should you expect, when you explore this program with DeNooyer Chevrolet?
– Making an appointment is preferred, but not required.
– The sales person will work with you to understand your goals for the conversation and a manager will appraise your vehicle.
– The sales person, sales manager and/or business manager will then review your current lease structure and your vehicle and give you your options.
Print out this certificate and present it when you come in!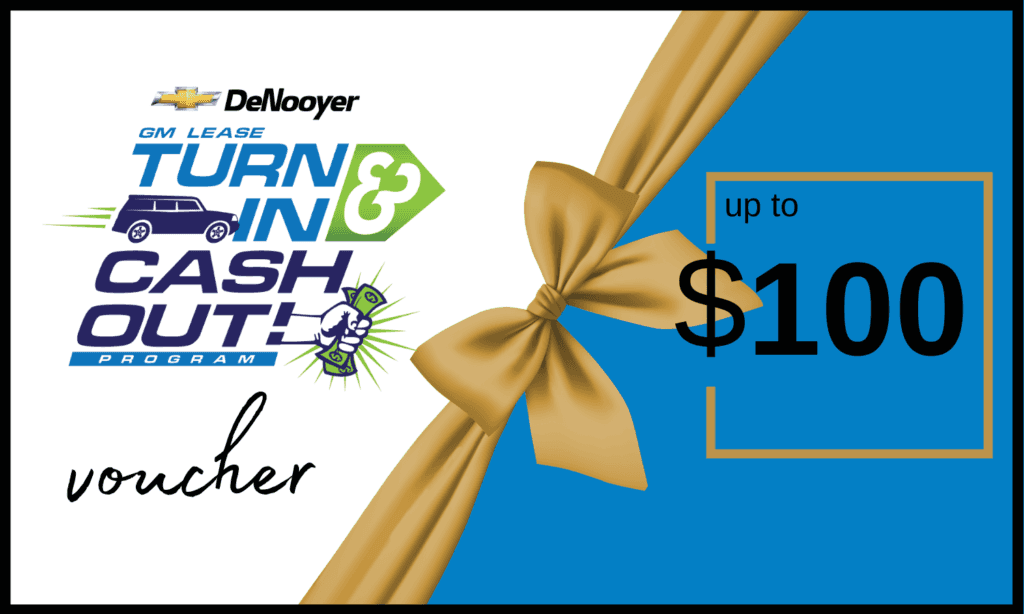 Want more information? Connect with us!